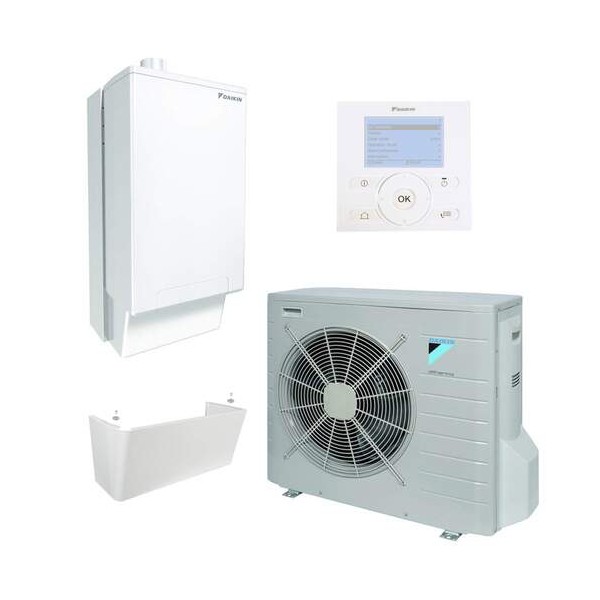  
Daikin Intergas R hybride warmtepomp set lucht/water verwarmen/koelen 8 kW
All-INN montage. 
Geen onverwachte kosten achteraf!
- Standaard montage.
- Voorrijdkosten tot maar liefst 100km.
- MaxiPro perskoppelingen met 5 jaar garantie MaxiPro perskoppeling.
- Montage van werkschakelaar.
- STEK monteur die de airco of warmtepomp in bedrijf stelt.
- 0-meting rapport.
- Werkrapport.
- Kenplaat.
Link: Standaard montage
- Deze set bestaat uit: 
- EVLQ08CAV3 Altherma warmtepomp Buitendeel 8Kw CZ01
- EHYHBX08AAV3 Hybride hydrobox 8kW verwarmen/koelen WA01
- NHYKOMB33AA Intergas HR-Ketel 32,7kw / CW 5 NL01
- EKHY093467 Afdekpaneel voor HR Ketel
- EKRUCBL1C interface taal = NL/FR/DE/IT WA04
A hybrid boiler is a hybrid heat pump, which is a hybrid heating system with multiple heat generators, powered by different energy sources. Usually this is a fossil fuel, such as natural gas or LPG, and a renewable energy source, such as photovoltaics.
A hybrid system is a system composed of two heat generators powered by different energy sources, such as a fossil fuel and a renewable source, which work in synergy to reduce harmful emissions and energy costs, while maintaining efficiency at the highest level.
Ideal for replacing old wall boilers while maintaining existing high temperature radiators, it is 35% more efficient than a condensing boiler. Daikin hybrid systems provide state-of-the-art technology, minimal energy consumption, easy installation and more.
A hybrid system is so called because it involves the combined installation of a condensing boiler and an air-water heat pump. The two systems then work together so that hot water is produced using the least expensive source of gas and electricity. The heat pump alone would not be able to guarantee a high supply of domestic hot water (such as in an apartment building with central heating). In this case, a hybrid system is the most recommended; when the existing radiator system cannot be replaced.

 
How much do you save with a hybrid system?
Installing a hybrid boiler can save you from 30% to 50% on your gas bill. The actual savings will depend on how old the boiler you are replacing is and the type of fuel used (whether natural gas or LPG).

 
Comfort Heating:
A Daikin Altherma hybrid heat pump automatically determines the most economical and energy-efficient heating combination
Heat Pump Operation: Best available technology to optimize operating costs at moderate outdoor temperatures
Hybrid system: gas boiler and heat pump operate simultaneously for maximum comfort
Gas operation: when outdoor temperatures drop dramatically, the unit automatically switches to gas mode.
Hot water:
The dual heat exchanger increases the gas boiler's hot water production efficiency by up to 15% over conventional gas boilers.
Cooling:
Integrate cooling with underfloor heating and radiators for a total solution
Quick and Easy Installation:
Because the heat pump indoor unit and gas condensing boiler are delivered as separate units, they are easy to handle and install.
Investment Benefits:
Compatibility with existing radiators; reduced installation costs and inconvenience.
With models capable of covering heat loads up to 27 kW, the unit is ideal for renovation applications
Possibility of connection to solar photovoltaic panels to optimize self-consumption of electricity produced.
Energy efficiency:
Depending on outdoor temperature, energy prices and indoor heat load, the Daikin Altherma hybrid heat pump can choose between heat pump and/or gas boiler mode, even operating them simultaneously and always selecting the most economical mode
In heat pump mode, the system is powered by renewable energy extracted from the air and can achieve energy efficiency class A++.
Heating:
Depending on outdoor temperature, energy costs and heat demand, Daikin HPU Hybrid activates the heat pump or boiler or both technologies simultaneously with the goal of always operating in the most economical mode possible.
Heat Pump:
With a nominal COP coefficient of performance of 5.04, the heat pump built into the Daikin HPU Hybrid is the best technology for reducing operating costs.
Hybrid operation:
To meet higher heat demand at lower outdoor temperatures, the heat pump and boiler are operated simultaneously in the most economical way possible. The water flow is automatically adjusted with the goal of lowering the operating temperature of the heat pump while improving its efficiency.
Condensing boiler:
When the outside temperature becomes particularly cold, the condensing boiler is the only active technology. Looking at how the average outside temperature varies in Italy during a winter season, most of the time the heating demand is met by the heat pump alone or by the hybrid mode of operation. The end result is 35% greater efficiency than a condensing boiler!
Domestic hot water:
Instantaneous for old system replacements:
Thanks to the innovative aluminum exchanger, domestic hot water is produced up to 20% more efficiently than traditional condensing gas boilers: mains water is heated directly in the boiler body, bringing combustion fumes to condensation. When the heat pump is active in heating mode, the boiler can still produce domestic hot water at the same time, resulting in greater comfort.
With heat pump for new homes:
Combine HPU Hybrid with a storage tank to produce domestic hot water year-round using renewable energy. Combining HPU Hybrid with a storage tank you can meet the legislative requirements of new buildings that require at least 50% of DHW produced from renewable sources or simply maximize efficiency in renewing your heating and hot water system by maximizing the use of renewable energy.
Benefits:
The Daikin Altherma hybrid heat pump combines air-to-water heat pump technology with gas condensation
Indoor wall-mounted unit for heating and cooling with air-water heat pump
Based on parameters such as outdoor temperature, energy prices and indoor heat load, the Daikin Altherma hybrid heat pump can always choose the most economical or environmentally friendly mode of operation.
Low investment costs: no need to replace existing radiators (up to 80°C) and pipes
Ensures sufficient heating capacity for renovation projects: all heat loads are covered up to 32 kW
Quick and easy installation thanks to compact dimensions.

 
Features:

 
Efficiency data:
Room heating: Water output at average climate conditions 55°C SCOP 3.29 - Room heating eff. class A++
Domestic hot water heating Declared load profile XL - Energy efficiency class of water heating A
Heating capacity Nom. kW 7,40/6,89
Cooling capacity Nom. kW 6,86/5,36
Rated power input Heating/cooling kW 1,66/2,01 - 2,01/2,34
COP 4,45/3,42
EER 3,42/2,29.

 
Indoor unit (hydrobox and boiler) EHYKOMB33AA2 EHYKOMB33AA3:

 
Central heating
Heat input Qn (net calorific value) Nom. Min/Max kW - 6.2 / 7.6 / 22.1 / 27.0
Delivered value Pn at 80/60°C Min/Nom kW - 6,7 / 8,2 / 8,2 /21,8 / 26,6
Efficiency Net Heating Value % - 98 / 107
Operating range Min/Max °C - 15 / 80
Domestic Hot Water
Power Min/Nom kW - 7.6/32.7
Water Flow Rate Nom. l/min (T=30°C) - 9.0 / 15.0
Operating range Min/Max °C - 40/65
GAS Connection Diameter mm - 15 - Requirement (G20) Min/Max m³/h - 0,78/3,39 - Requirement (G25) Min/Max m³/h - 0,90/3,93 - Requirement (G31) Min/Max m³/h - 0,30/1,29
Supply air Connection mm - 100 / Concentric - 1
Exhaust Gas Connection mm - 60
Covering Color White - RAL9010
Material Prepainted sheet metal
Unit Dimensions Height x Width x Depth mm 710x450x240
Weight Empty Unit kg 36
Power Supply Phase / Frequency / Voltage Hz/V - 1~/50/230.
Outdoor Unit EVLQ08CV3:
Unit Dimensions Height x Width x Depth mm 735x832x307
Unit weight kg 56
1 Swing type hermetic compressor
Operating range Heating Min.~Max. °CBU -25~25
Refrigerant Type R-410A - Charge 1,6 Kg
Sound power level Heating Nom. dBA 62
Sound pressure level Heating Nom. dBA 49
Power Supply Name/Phase/Frequency/Voltage Hz/V V3/1~/50/230
Current Recommended Fuses A 20
HYBRIDE SET 8KW VERW/KOEL
Geen klantenbeoordelingen op het moment.